Answers Detailed Raw Chicken Nibble 2.2lb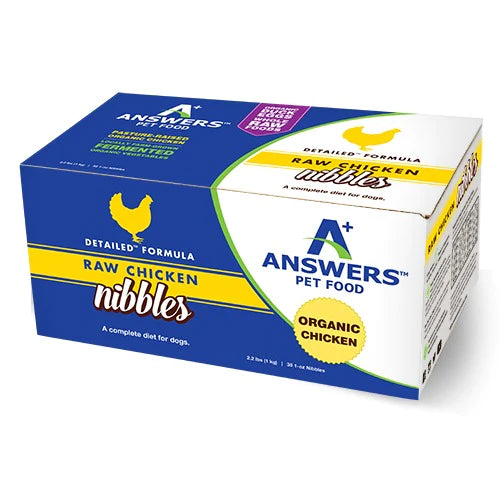 Answers Detailed Raw Chicken Nibble 2.2lb
Regular price
$2000
$20.00
Answers Detailed formula provides a superior, wholesome and balance diet of only the highest-quality sourced and fermented ingredients, suitable for all life stages. Answers' quality protein, fat-balanced and high-vitamin formulations ensure your pet receives all the necessary nutrients and maximum nutritional benefits required for a healthy immune system, digestive tract, and better overall health.
Detailed smaller raw nibbles provide your dog with the quality they deserve in the quantity they need.  Answers' number one ingredient is pasture-raised poultry, accompanied by organic eggs from pasture-raised hens, organic fermented vegetables, fermented cod livers, and high-vitamin butter.
For all life stages
Complete and balanced nutrition
Humanely and organically-raised free range chicken
100% free of grains, gluten, GMO, fillers, and synthetic vitamins
Fermented organic vegetables
No heat or pressure pasteurization (HPP)
*Keep frozen
Storage and Handling:
Keep frozen.  Thaw in refrigerator to serve.  Good for 7 days when refrigerated.  Keep raw poultry separate from other foods.  Wash working surfaces, utensils, hands and any other items that come in contact with raw poultry with hot soapy water.
Ingredients:
Organic chicken, organic chicken heart, organic chicken liver, organic ground chicken bone, organic carrots, organic duck eggs, organic yellow squash, cod liver, organic green beans, whey, butter, kefir (raw cow milk, dried Lactobacillus bulgaricus fermentation product, dried Lactobacillus acidophilus fermentation product, dried Leuconostoc mesenteroides fermentation product, dried Lactobacillus lactis fermentation product), montmorillonite, organic parsley, salt, vitamin E supplement.
Size:
2.2 lb Box (35 1-oz Nibbles)